3 Affordable Self-Care Kits You Need to Try (and a Bonus Option)
CLAUSE DE NON-RESPONSABILITÉ
Ce blog n'a pas été approuvé par votre service de santé local et n'est pas destiné à fournir un diagnostic, un traitement ou un avis médical. Lire la suite

Ce blog n'a pas été approuvé par votre service de santé local et n'est pas destiné à fournir un diagnostic, un traitement ou un avis médical. Le contenu de ce blog est fourni à titre informatif uniquement. Veuillez consulter un médecin ou un autre professionnel de santé pour tout diagnostic ou traitement médical ou lié à la santé. Les informations de ce blog ne doivent pas être considérées comme un substitut aux conseils d'un professionnel de santé. Les affirmations concernant des produits spécifiques sur ce blog ne sont pas approuvées pour diagnostiquer, traiter, guérir ou prévenir des maladies.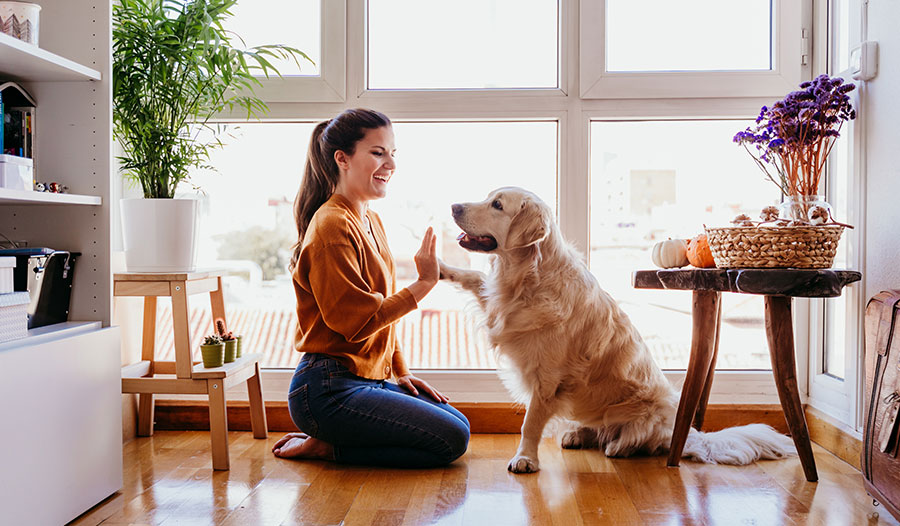 It's spring, and love is in the air. Don't forget about self-love!
Unfortunately, the last one doesn't always come easy to modern women, never mind the fact that we're more than a year into a pandemic that's leaving many of us drained. Even though we are starting to "open up" a little, it still doesn't feel entirely safe. It feels like the world is sprinting and we are always behind. We are in Zoom rooms all day, or on social media, and it's not easy to be kind to yourself when every day you see Instagram's mind-blowing success stories and automatically compare yourself to what you see. I know for me, the negative self–talk inside my head can trample down all my achievements and self–worth and make me feel miserable in seconds.
Elizabeth Gilbert, author of the New York Times bestselling memoir Eat, Pray, Love, writes love letters to herself every morning to counter that angry voice inside. I decided to try the practice. Instead of scrolling through the Instagram feed first thing in the morning, I started writing "I love you" to myself in my notepad and adding smiley faces, hearts, or flowers next to these powerful words.
In the beginning, I didn't feel them at all, though. It seemed like they were hitting a brick wall of rejection inside me and were falling down like broken glass. I simply didn't believe them. But, I felt love from the emojis. They are not demanding: they are silly, playful, and childish. And probably that's what we all need sometimes—to take a heavy jacket of expectations off our shoulders and feel our inner child's light-heartedness again.
I have to consciously create space for my inner girl in my daily dose of overwhelm. Besides emojis, I've also found a great deal of support from beauty rituals. They are my fresh breath of air in the midst of a fast-moving, demanding life.
And what I also discovered is that one self–care kit equals one ritual. When you enjoy a self-care kit, you not only show love to yourself, you get to practice accepting the love from the people who took time and created the sets. Also, sometimes it's just easier—it saves a lot of time and energy on researching products. Self-care kits can be for you, or as great gifts for friends and loved ones. Here are a few to try.
The first kit I want to introduce to you is the iHerb Self-Care Box. I call it "The Evening Hug" kit.
Start unwinding from a long day of work by taking a sea salt bath. Asutra Soak the Day Away Dead Sea Bath Salts contain non–toxic and eco-friendly ingredients. If your feet are more tired than the rest of you, you can show them some extra love by soaking them in warm water with this product.
The next thing you can do is open the Aveeno Daily Moisturizing Body Wash from the set, add a tablespoon of Now Foods Jojoba Oil, and shake it well.
Now slip your hands into the EcoTools Exfoliation Gloves, wet them, apply the body wash and jojoba oil mixture, and massage your body. Honestly, it feels delicious. Wouldn't you feel like gorgeous Cleopatra after this beauty treatment?
The gloves gently remove the dead skin cells from your body. Aveeno Body Wash will give you a rich creamy lather that can dissolve any impurities from your body and jojoba oil will leave you with smooth, radiant skin.
The unusual Steambase Daily Eye Mask in the kit is an awesome "spa at your home" invention. After a whole day by the computer, our eyes need special care. Placing the thermal mask on the eyes for 20 minutes is enough for them to rest and feel good again.
You are probably already peacefully sleeping after all the previous procedures, but if not, use this sleep therapy method right before going to bed. Spray Little Moon Essentials Sleep-Inspiring Mist on your pillow and watch yourself gradually drift into sleep. It contains a powerful natural essential oil mix: lavender, frankincense, lemon, roman chamomile, bergamot, palmarosa, vetiver, and coriander. This combination puts me on a fluffy cloud and I dream of using it in one of my restorative yoga classes after we are back to practicing in the studios again.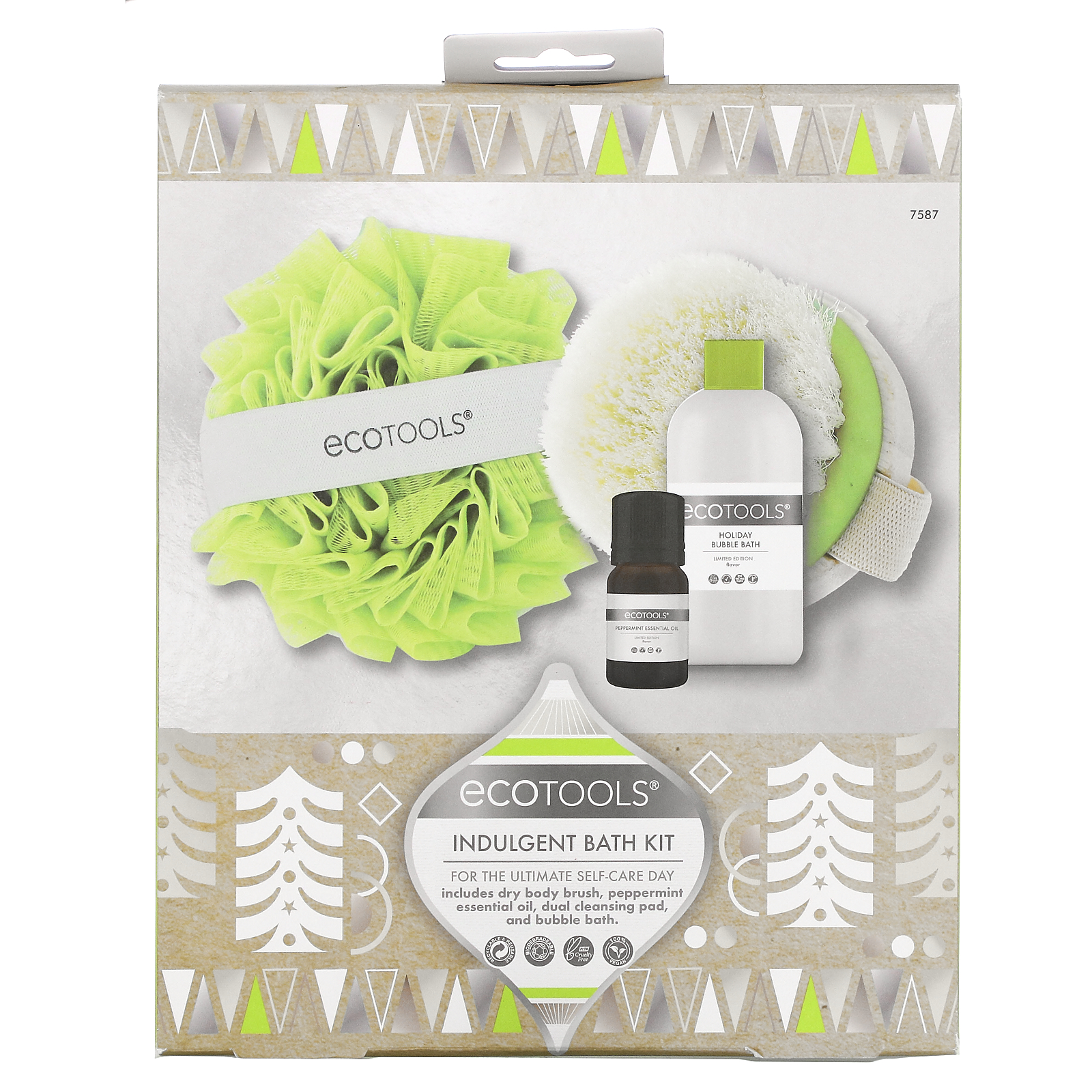 The second kit on my list is the EcoTools Indulgent Bath Kit or "The Glittering Bubble of Love" kit in my imagination.
Even after a nerve-wracking day, this will bring you calm and tranquility. It is so important to not allow stress-producing activities to build up in the body and always create space for self-care.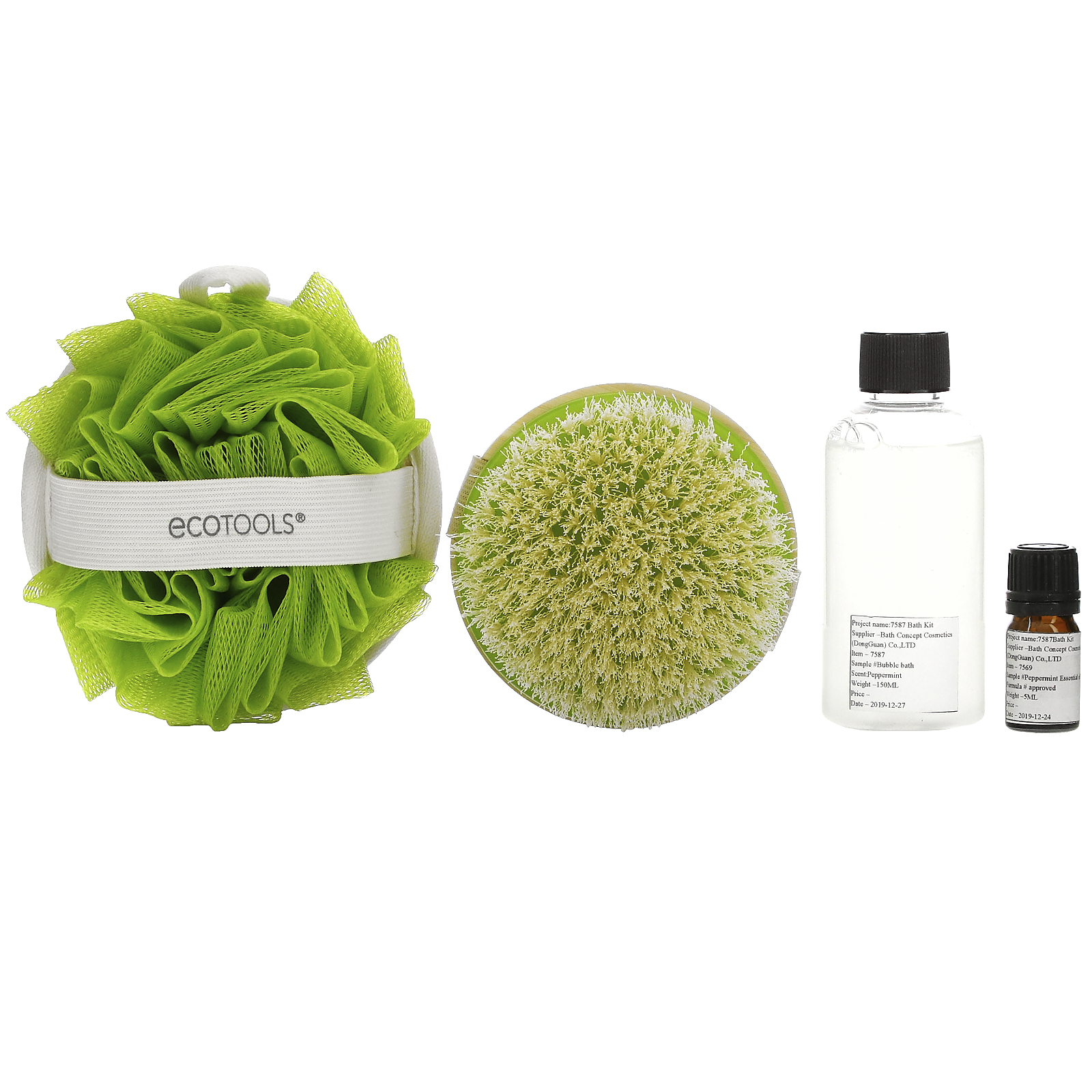 Get the party started by setting up the mood and adding a couple of drops of the Paper Mint Essential Oil from the set to your diffuser. It will soothe uncomfortable sensations in your stomach that you may have from a stressful day and calm your nervous system.
Proceed with ayurvedic dry-brushing. This improves lymphatic circulation, increases muscle tone, and promotes natural detoxification. The dry brush that comes in the set is awesome for this ritual. It has gentle bristles, is cruelty-free, and 100% vegan. Keep the direction of the strokes always towards your heart—from the hands to the shoulders, from the feet toward the neck. And use circular strokes on elbows, knees, and stomach.
Next, start filling up your tub with warm water, and add the Holiday Bubbly Bath liquid. I'm sure your inner child will show up in seconds, gazing at the glitter from the bubbles. Allow yourself to soak in that rainbow miracle substance even if it's not a holiday and just a regular Wednesday or even Monday. Or you can follow Julia Robert's example from the movie "Pretty Woman."
Remember the scene when she is taking a bubble bath, wearing headphones, and singing along to Prince's "Kiss?" You can do that too! Maybe you just want to choose a different song. I would have "Nobody's Perfect" by Katy Perry. But, of course, you don't have to be me— you're the DJ at your party, and in your life.
The Dual Cleansing Pad with your favorite body wash can be the final step before you transfer your beautiful, relaxed, and glowing body to bed for sweet dreams.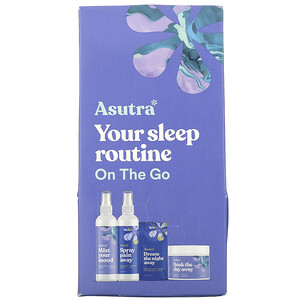 What happens if you travel far from home and sleep in an unfamiliar place alone? Right, you take support with you! Another kit I want to tell you about is made just for that. It is the Asutra You Sleep Routine On The Go Travel Set. I think of it as the "Never Alone Far from Home" Kit.
Bring this kit to your hotel room or Airbnb, so it feels like a caring and accepting mother and not the cold stepmother from the fairy tale "Vasilisa the Beautiful." This set has everything you need to feel warm and cozy even if you're not at home.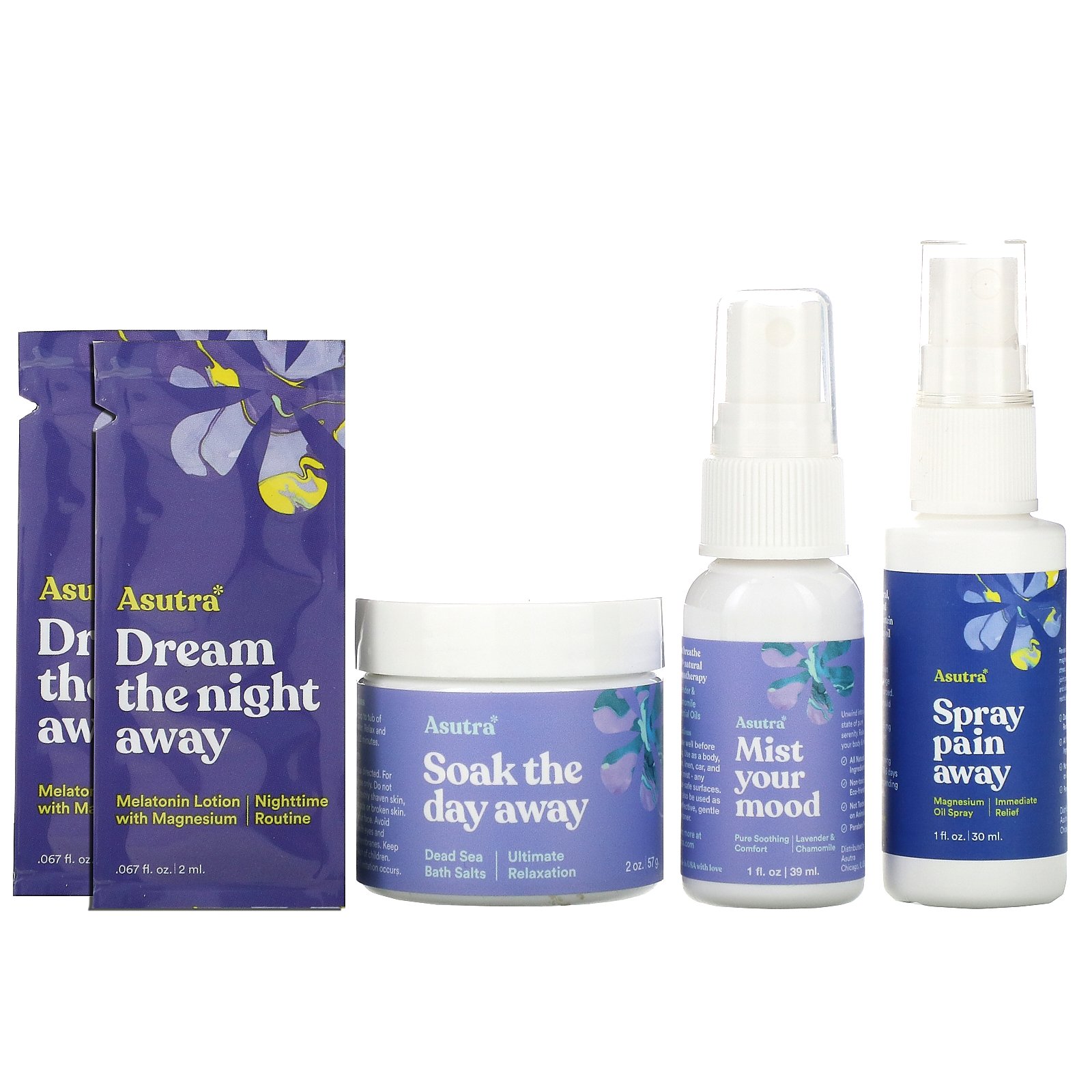 The first item in the kit is an Ultimate Relaxation Sea Salt that comes with a mixture of organic essential oils: rosemary, lavender, and ylang ylang. All of the ingredients are natural and eco-friendly. And you don't have to worry about itchiness that may come from chemical add-ons. Add it to your bath and it will begin your unwinding process from the day's activity.
Spray Pain Away Magnesium Oil will give much-needed support to your sore muscles or knees. If they are tired from a long flight, demanding meetings, or vigorous exercise, spray the oil over them and give a gentle massage. You'll immediately feel the relief and will start noticing good things around you again rather than focusing on the pain.
Rub out any last bit of tension with the Dream the Night Away Melatonin Nighttime Lotion. This shea butter and melatonin lotion will delight your sense of smell and leave you with smooth skin.
Finally, end your ritual by spritzing the Mist Your Mood Sleep Spray on the pillow. The soothing aroma of lavender and chamomile essential oil will gently bring you to a restful sleep. And maybe also bring dreams about fireflies. I know when I have a restful sleep, my creativity blossoms, and I'm sure yours will too.
My Self–Made Morning Self–Care Kit
Did you know you can also create your own kits? Here are the products that I use in the morning and I think they would make a great set. If it was an actual set, I would name it "Morning Creativity Dance."
Even if your day will be full of responsibilities and tasks, having a morning ritual will help you to stay more centered. Here is the kit I created: Now Foods Tangerine Essential Oil, Aveeno Positively Radiant Skin Brightening Daily Scrub, Now Foods Solutions Completely Kissable Peppermint Lip Balm, and Crystal Body Deodorant Spray.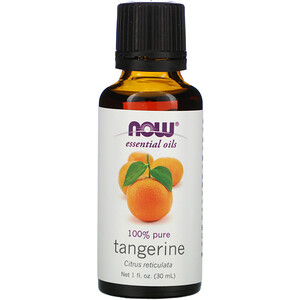 Add a few drops of Now Foods Tangerine Essential Oil to your diffuser first thing in the morning. Then you can meditate with this invigorating aroma in the room. Take a blanket, place it on the floor, and sit on it in a cross-legged pose or however you are comfortable. Keep your spine straight and just breathe. The tangerine essential oil is 100% pure and quality assured. It is a good friend that can cheer you up and inspire without asking for anything in return.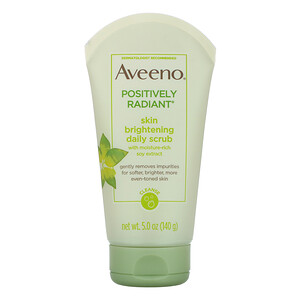 The next thing I do in the morning is cleanse my face. I love Aveeno Skin Brightening Daily Scrub for that. After I use it, my skin immediately looks much younger, much happier, much brighter. I'm thrilled with this product. I'm so happy I discovered it! The scrub is soap-free, hypoallergenic, and also good for sensitive skin. You just need a tiny drop of the scrub every time you use it. It lasts a long time.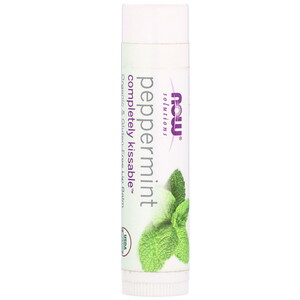 Take care of your lips with Now Foods Completely Kissable Peppermint Lip Balm. It contains sunflower oil and vitamin E. It adds mild mint tingling sensations on the lips and has a refreshing effect on the whole body. This is a USDA Organic product. It is also gluten-free. It perfectly hydrates the lips and makes them soft.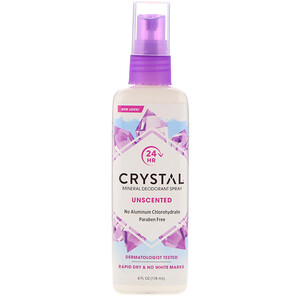 The last, but not least, piece in my kit is Crystal Body Deodorant Spray. It works like a charm! This is natural and doesn't clog the pores under the armpit. It doesn't leave any marks on clothes. It is fragrance-free and is not going to compete with your perfume. It also prevents body order for up to 24 hours. It is made of mineral salts, it is hypoallergenic, and aluminum and paraben-free.
Self-care and self-love can seem a bit daunting at first, if you're not used to taking some time to focus on yourself. By using one of these easy-to-use kits, hopefully it will be a little bit easier to practice more self-care in your life. Remember, self-care isn't selfish, it is necessary.